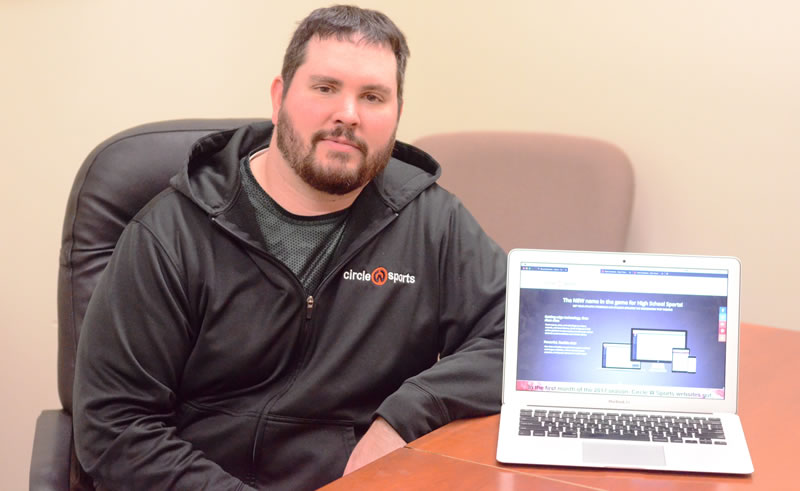 Wellsboro native helps take D4, NTL sites to new levels
March 18, 2018
Up until two years ago Ed Weaver was working in State College, spending his free time traveling back to Wellsboro to work on WellsboroAthletics.com.
The Wellsboro grad had an idea at the time. He wanted to take what he did for Wellsboro sports and expand it throughout the district.
At the same time, District 4 and the NTL didn't have websites that provided consistent information.
Neither one featured standings and statistics. There were no stories on athletes or daily updates on the events.
So, Weaver bet on himself and quit his job to start working on his Circle W Sports full time.
"Really three or four years ago was when I started to get serious about this," Weaver said. "The big push to get the code base where it is now was two years ago. Everyone told me you do a good job covering Wellsboro events, you should think about branching out. I was working full time in State College, only in Wellsboro part time, till I moved back up in 2014. I got fed up where I was at and I wanted to take a chance on myself.
"Spring of 2016 I quit my job (working for Schoolwires working on a website platform for school districts), and I dove full time into this so I could do a bunch of coding and organization to get things to where it is now. Ever since I started the Wellsboro athletics site, all the kids information is there and it kind of spiraled into District 4 and the NTL. District 4 came first last June, the NTL came last August, actually on my birthday the league called and said we want to go with you.
"I never thought I'd be in this path as far as trying to provide a service to the public, but it works and I have the traffic numbers to prove it."
For Weaver all of this is to try and help promote athletes and schools.
"I just want to help student athletes to try and get a look, especially kids on the cusp of Division 2 or Division 3 or Division 1 and Division 2. I want to try and help kids that are interested in collegiate athletics. This helps put the resume together for them so they can build the portfolio.
"We are providing the software platform for schools to help build that resume for their athletes. The platform is kind of like MaxPreps in a way, but everything is custom tailored to your school. You don't have to go anywhere else to look at stuff, everything is branded to your school."
With Wellsboro athletes the system helped to gather all the information for kids that were looking at schools.
"You take athletes like Michael Pietropola and Sarah Ingerick, two of the most recent to play Division 2 at IUP and Gannon. In our area, we are so rural, this is another way to promote them besides their film. Especially for college coaches that can't go out and scout every single player they want to. It just helps get kids names out there more. It's kind of like a big data storage, it combines articles from papers and my software combines that all into one profile. You can reach out to the kid, you can get to know the person you are interested in and see their stats and we have links out to their game films on Hudl. They can read the articles associated with the kids, it's a recruiting tool."
For Weaver all of this started up after he realized his sports career was ending after high school and he wanted to try and help other athletes out.
"It officially started September 11 of 2015, but unofficially I first started this with WellsboroFootball.com in 2006 when I started coaching at Wellsboro. The whole idea was kind of born from me playing four years of football at Wellsboro and two years of track and not being able to see the stats until maybe the last game of the year if you were lucky. If you had colleges looking at you it would be nice to say against this team I ran for 300 yards and four touchdowns or threw for 400 yards and six touchdowns. It all stemmed back from when I was in school. I always wanted to play college football, I never really got a look for a lot of different factors. I don't think my body could have handled it from injuries when I was younger. Because I couldn't keep my athletic career going at the next level I wanted to help others that might be on the verge of this to get their names out there to do the things I was never able to do."
When Weaver didn't go to play sports in college, he ended up getting a degree in Web and Applications Development.
"I went for computer programming," Weaver said. "I graduated from Penn College in December of 2007 with a degree in Web and Applications Development, which is a fancy word for computer science degree. My trade has always been a computer programmer. I always loved sports, I played football for 10 years, I coached for three years. When I started doing all the stats is when it took off. We have these packets we give out to coaches that we didn't make available for kids and I wanted to make them available for everyone. This picked up when I came back doing stats full time for football and stats full time for basketball."
While helping athletes get recruited is a big part of what Weaver is trying to do, there's a lot more, including helping to bring the history of programs to the media and the fans.
"We try and provide information about every game to the media," Weaver said. "One of the things we want to try and do is make all the history available. For the case of Wellsboro we hadn't won a district title in 66 years. The average person not affiliated with the school or the program probably isn't going to know that without doing a lot of research. We are trying to take all the history out of the gym, out of the walls and the banners and the trophy cases and put that online. You think about it, after the season is over the score books might be kept, they might be kept at the coaches house, they might be in an athletic office in a bin. My stuff stores it with just a couple clicks.
"One part of the website is to make simple searches. We are trying to make individual varsity records more prevalent. Information about prior years, head coaches, opponent records, athletes of the year and who won memorial awards, we want to try and make that all more available."
The site provided a lot of information, so much that people can find out just about anything on the athletes for each school.
"The running joke in the Wellsboro athletic department office is no teams need to scout us, because Ed scouts us better than anyone and it's all online. Our coaches look back on it all the time, what did we do against this opponent, who had big games, who had hot hands shooting. The older generations and players that came beforehand, they see all their stuff and they see all the stuff for current day athletes."
Just recently Weaver's sites have gained the ability to transfer stats right from the site directly to MaxPreps, where the state asks many sports to send their stats.
"MaxPreps is big," Weaver said. "If you enter stats in our platform you can easily export into MaxPreps, so it saves time there without having to duplicate work or data entry. I want to get into mobile. I want to provide a mobile app for schools that want to be there. We design our websites to look good on phones and tablets, but our app could be more pertinent. One of the big things I am trying to get accomplish is live scoring and video streaming. If you can't make it to the game you can bring the game up on your laptop and tablet or phone and watch the game and have all the stats up to date. I also want to have team messaging to make it easier for coaches to communicate with their athletes, officials and parents, if say a game is changed or you are saying practice is moved from the old gym to the new gym. I want to try and make things easier for coaches that way."
Weaver also is working to make stats available easily for every athlete.
"With our stat explorer we have a single interface where members of the media can go through at an individual level, a school level, a league or district and it makes it easier when it comes to doing research. Instead of digging through 10 issues of papers you have everything right there. The whole goal is to try and make stuff in our area more available with everything being digital these days."
One of the things that Weaver struggles with, and knows he needs to make the site effective, is getting stuff from all the schools.
"It was really difficult, especially this fall season, it was difficult to get people to buy in," Weaver said. "Especially with District 4, their website has mainly been throw up some documents in the past. There really hasn't been any district stat leaders, and you couldn't see the standings. Everything was right there now so people can take notice and people have it. I have gotten a lot of traffic from recruiters there, a lot of parents. This winter has gotten better and we will see how the spring goes. I'm still relying on athletic directors to get the word to the coaches. It's been slow, it's been frustrating at times. Especially when people ask why isn't my kids stats on there.
"It's especially hard trying to get scores. It's been hard to try and round that stuff up, hopefully in year two more people will buy in. The whole goal with District 4 and the NTL is trying to connect everybody. With the work I've done with Wellsboro, any story about the program, any stats get aggregated to the district. If you sign up to use my service everything is right there. I put enough information out there where parents can see it the next day and at the same time everyone in the Northern Tier League and District 4 sees that information to. With District 4 wanting to move to the power rankings with other sports, not just football, my service can help with that."
Right now Weaver works with Wellsboro and Montgomery and also the NTL and District 4. He knows as more teams start to use his stuff it will only help to make everything, even for the district and league site, that much better and easier.
"It will keep me from being up until 3 or 4 in the morning most nights," Weaver said. "It will be better for the league, it will be better for the district. In terms of the district and the league you are going to see the top 25 kids for each statistical category we track on there and then we have their rosters and full schedules. Any outside information gets aggregated together. With all star voting, we can make it easier because everything is in one place. It's using technology that wasn't there 10-15 years ago that's available today to make it much easier for school teams and districts. The point of this is to make it easier for teams to get promoted, to promote their student athletes. It's taking the ESPN model and putting it at the high school athletic departments."
Weaver has a lot of big long term goals.
"Six months from now I want to get every school from District 4 on board to use my platform," he said. "That will make it much easier for District 4. A year from now I want to start getting at least half of all the districts in the PIAA and in five years, thinking really big, I want to be in every school in the country. With a little bit of design and a little bit of coding you can be up and running in a few days. I have things up to where you can turn a school district on in just a couple weeks. I want every athletic director to say these people produce high quality websites and it gives us tools that are easy to use. I am looking for people that have the same goals as me to publicize the student athletes."